KPMG N.V. is one of the Netherlands' leading providers of assurance and advisory services. We are part of the global KPMG network (new window), which operates in 144 countries and territories worldwide.
We work with public sector, private sector and not-for-profit clients. Our clients include some of the best-known companies in industries ranging from financial services and consumer retail to energy, infrastructure and healthcare. Through our work, we play an essential role in ensuring public trust in companies, institutions and financial markets.
Our businesses
We have two main businesses: Assurance (new window) and Advisory (new window). 56% of our revenue comes from our assurance business. Both Assurance and Advisory are supported by Business Services. KPMG N.V. has twelve offices (new window) across the Netherlands, including the firm's headquarters at Amstelveen. Tax advisory services are offered through KPMG Meijburg N.V. (new window), also part of the KPMG network[1].
| | | |
| --- | --- | --- |
| Assurance | | Advisory |
| | | |
| Assurance includes both audit and non-financial assurance. We audit financial statements, reports and other regulatory disclosures, both financial and non-financial. Our assurance business comprises five main sectors: Corporate Clients, Financial Services, Public Sector & Healthcare, International Business and Private Enterprises. | | Through our advisory business, we help clients manage risk, improve strategy and performance, digitalize their systems and processes, and seize new opportunities for growth. Our advisory business is organized by 'suites': Strategy & Operations, Deals, Finance & Business Services, Risk & Regulatory and Technology. |
Our values
It is not just about what we do, but how we do it. Our people define who we are as KPMG. They inspire trust, deliver impact and drive growth for clients and society.
Our values guide our behaviors day-to-day, informing how we act, the decisions we make, and how we work with each other, our clients and other stakeholders. Our values are:

Our business model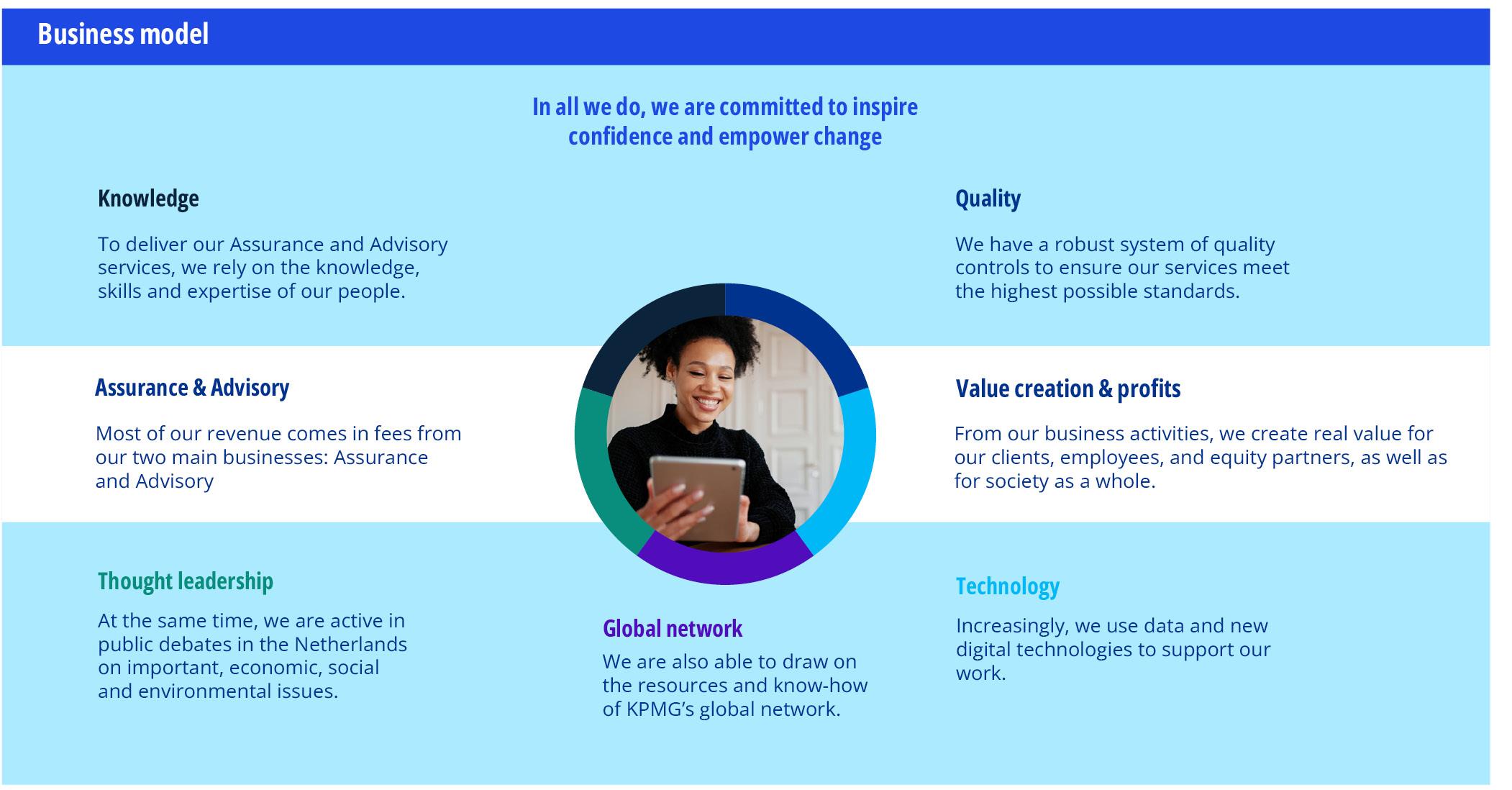 1

Please note that KPMG Meijburg N.V., though a member of the KPMG network, is not part of KPMG N.V. and is therefore not covered by this report (unless stated otherwise).